Learn tips and tricks to use when installing Mossy Oak Graphics camouflage vinyl wraps on your truck, SUV, boat or any other application you can dream up!
How to Join Two Pieces Together:
Wondering how to join two pieces together when wrapping something in camo vinyl? Even though it is camo, a straight edge can leave a visible seam. To completely hide the seam, take your scissors and make an irregular, wavy edge. Doing this causes the edge to completely disappear once the camouflage vinyl is laid down on top another piece of vinyl.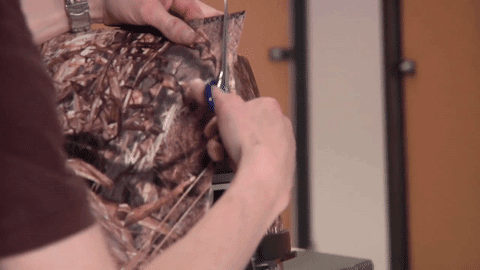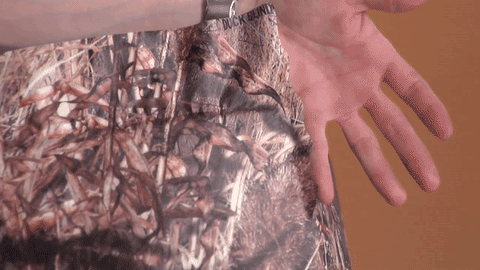 Importance of using post-heat in the application process:
Post-heat is unique to this vinyl and an important step in the application process of our products. Because cast vinyl starts as a liquid, when it is heated it creates a new memory to the shape you are applying it to. The application of heat helps your Mossy Oak camo vinyl stay adhered in any recessed areas on your surface.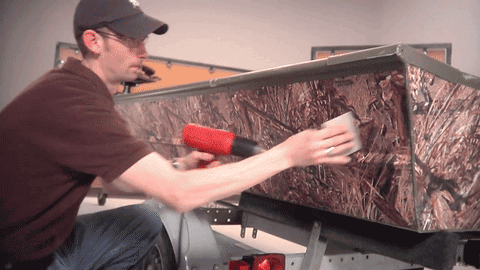 Applying the material to a textured surface:
On its own, Mossy Oak Graphics adheres best to smooth surfaces. If you are wanting to apply our camo vinyl wrap to a textured surface, don't be discouraged. You can apply Mossy Oak Graphics to your textured surface and get a great result, we just recommend that you use a primer before applying. If you're not sure whether you need the 3M Edge Sealer, 3M Primer Stick, or 3M Primer Can, you can read more about them in our post Lions and Primers and Sealers.
Remember, while Mossy Oak Graphics can be applied to virtually anything, you never want to apply them to a motor, exhaust pipe, or anything else that gets extremely hot.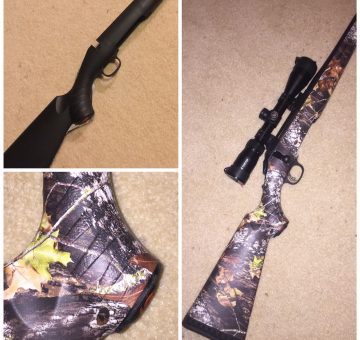 How to use heat on the material:
Cast vinyl is the best in the industry because of its ability to stretch and conform to curves when heat is applied. The heat softens the material, giving it more flexibility to stretch and adhere to every curve and contour of your surface. By using heat and pressure, you will see the shape of your surface come through the vinyl.
The difference between Mossy Oak cast vinyl and other camouflage vinyl:
Mossy Oak Graphics uses a premium cast vinyl. As we have mentioned, cast vinyl starts as a liquid. When it is poured, all of the solvents evaporate out of it causing it to keep its shape. When the temperature and the environment change, you don't have to worry about your camo vinyl drawing back up or pulling out of concave areas. Our graphics come with a 7-year durability rating and a 5-year no fade warranty. Once Mossy Oak Graphics are adhered properly they are there to stay and look great for years to come.
How to avoid cutting into the paint on your vehicle:
If you have excess vinyl and are worried about cutting into the paint or surface of your vehicle, you have nothing to fear when following this tip. When cutting off excess vinyl, lay the blade flush with the edge of your fender or painted surface. Keeping the blade level will ensure a smooth cut that won't cut into your vehicle.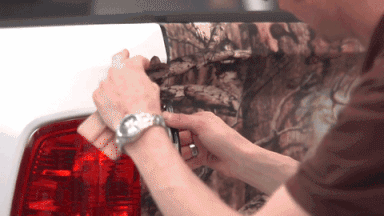 How to cut for door handles:
This may seem tricky but we have a simple solution for you. First, you will want to lay your graphic over the door handle in the position you want. Next, use your finger to find the center of the door handle and make a mark from one end of the door handle to the other. Then, you can pull back your graphic and make a cut with an Exacto knife between your marks. Once you have made the cut you can re-apply your graphic and the door handle should pop right through the cut you made.
Taking your camo'd vehicle through a car wash:
Remember, we use the most premium vinyl in the industry. After your Mossy Oak camo vinyl is applied you will never have to worry about any water or debris getting underneath it. Take it through the car wash or pressure wash it with no problem. Once you have properly applied Mossy Oak Graphics you can treat it like you would your regular vehicle.
Overstretching the material:
Overstretching your graphic is not an issue with Mossy Oak Graphics. All you have to do is reach your hand back underneath the vinyl to pull it free and apply a little heat, eliminating the stretch you previously put in it. Then you can use your squeegee to apply pressure back onto your graphic.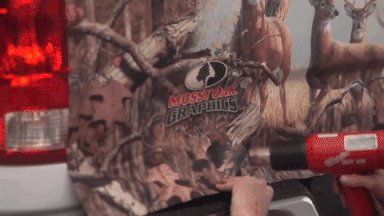 If you position your graphic in the wrong place:
With other camo vinyl this is a concern but not with Mossy Oak Graphics. When you pull the backing off your graphic, you can actually stick it down and pull it back up to move it. In fact, you can stick it down and pull it back up as many times as it takes for you to get your graphic in the perfect position. You can even stick it to itself and pull it apart. Until you apply heat and pressure, our product can be conveniently adjusted – unlike that other camo vinyl.
Did you learn something new?