"Your only limitation is your imagination."
Mossy Oak Graphics is renowned for its advanced, high-quality camo graphics regularly used to wrap and detail trucks, guns, and camouflage other various hunting gear. At Mossy Oak Graphics, we are proud to provide customers with excellent products that alter a hunter's surroundings, helping their gear blend in with the surrounding brush, trees, and overall environment. But, enough with the boring stuff! Our vinyl doesn't have to be limited to just trucks and hunting gear–you can virtually wrap anything (That is, with a smooth surface) in Mossy Oak Graphics cast vinyl (and it can turn out pretty cool, or at least we think so). We love to see customers challenging their creativity, and taking their imagination to places we didn't even know were possible. With that said, here are our top 10 favorite "out of the box" objects wrapped in Mossy Oak Graphics.
1. Piano
Most of us don't own a piano, let alone even know how to play one. Taking such a beautifully crafted musical instrument that creates remarkable sounds and adding a country spin to it is what we, at Mossy Oak Graphics, simply live for. This piano wrapped in Mossy Oak Graphics vinyl brings music to our ears–literally. Not to mention, it only makes this piano cooler that it's Kid Rock's! We can only hope he will continue to bring flair to the musical world, with the help of Mossy Oak Graphics.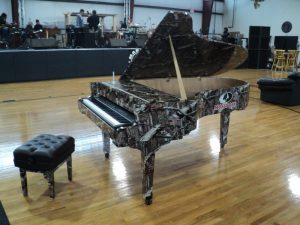 2. Decorative Piece
Whoever said camo can't be used for arts and crafts or decoration?! Even though Martha Stewart may not completely agree with us (we will work on her), camo patterns have the ability to add a little spunk to any room. So goodbye boring, floral patterns, and hello to Mossy Oak Graphics camo! Just like this customer, you, too, can add Mossy Oak Graphics vinyl to anything in your kitchen, bedroom, bathroom… you name it. Compliments to this customer who decided to take Mossy Oak Graphics to a new place. Keep adding Mossy Oak Graphics to any smooth surface you can find.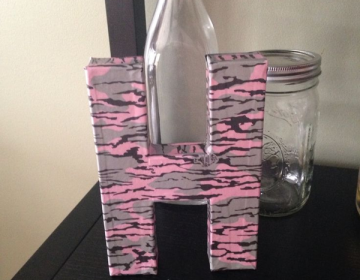 3. Calculator
Even though math is very important, sometimes it can just plain suck. But, Mossy Oak Graphics can make it less sucky. Rather than staring at a dull plastic screen, why not add a little camo? We realize sometimes it is unfortunately necessary to use calculators; however, applying Mossy Oak Graphics to its surface may help adding up the numbers for all your bills, taxes, etc. And even make it a little fun …? At least Mossy Oak Graphics hopes they can be of help.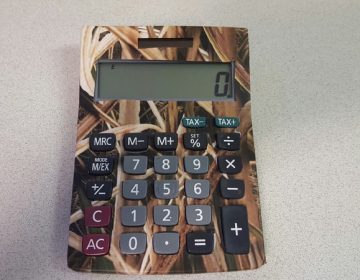 4. Full Office
Imagine your co-workers walking past your office and not even stopping to bother you (yes, we like to imagine Mossy Oak Graphics can help do that). This customer's camo-wrapped office helps them blend in so they can focus on their work without distractions. Do you want to get rid of dull cubicles that make you feel sluggish? Ditch it for some refreshing Mossy Oak Graphics vinyl.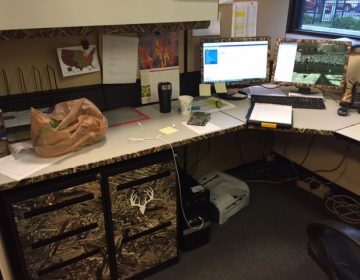 5. Cooler
There's nothing better than a nice cold beer and hunting season, which is why these coolers wrapped in Mossy Oak Graphics vinyl perfectly demonstrate the type of lifestyle our customers enjoy. So sit back, relax, and enjoy this camo-wrapped cooler (Maybe this time you will be able to hide all of the drinks from your hunting buddies with Mossy Oak Graphics!)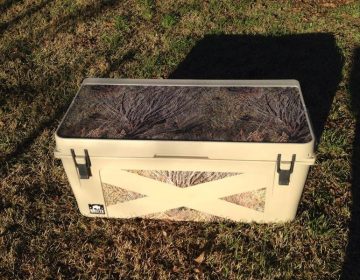 6. Motorcycle
Step aside trucks–it's time for motorcycles to shine! (Well, not literally shine because that would completely contradict our reasoning for creating matte materials … but you know what we mean.) There's just no denying how cool these motorcycles wrapped in Mossy Oak Graphics camo look. If you're looking for a way to make your motorcycle stand out even more, this is definitely some inspiration. Wherever the road takes you, you will absolutely be turning heads. And as hunters, we are used to this. Sorry to the other showstoppers, our motorcycles will be riding in center lane with Mossy Oak Graphics!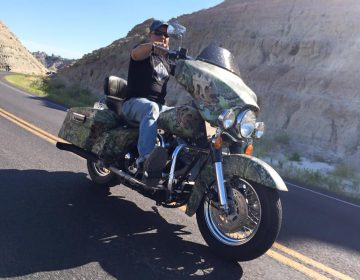 7. Space Balloon
What if we told you that we sent a balloon up in space covered in Mossy Oak Graphics? Well, yeah, that actually happened. Someone took Mossy Oak Graphics literally out of this world and shot it up into the sky knowing it would be brought back without any harm. This object just further proves how protective Mossy Oak Graphics materials are, seeing that they are able to face extreme temperatures ranging from -64 to +265F. If you don't believe us, we have the proof! Just watch the video for yourself here.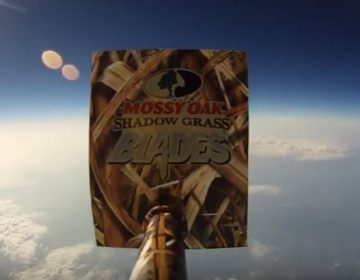 8. Kitchen
We're not sure if Martha would agree with this, either. Should the kitchen be left to just cooking? No. Should the kitchen be left to just baking? Definitely not. The kitchen should be about creating anything you want, which means decorating it any way you would like as well. This no doubt includes decorating your kitchen with Mossy Oak Graphics. If you want to cover your entire kitchen in camo like this customer, there is no stopping you! (In fact, we encourage it).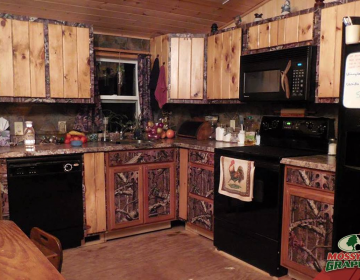 9. Kid's Bike
Our kids always want the next best thing, and definitely want to stand out from their friends. So why not let your children embrace their inner-hunter too with this camo-covered kid's bike, too? (Come on, what else would you want?). The next time your kids drive their bikes to school, they will no doubt be asked how they got camo on their bike. Your answer should be Mossy Oak Graphics.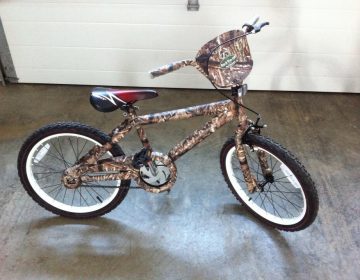 10. Deer Skull Head
Wait… What? (Don't worry, we asked ourselves that too). As hunters, we are definitely not used to seeing the skulls of the deer we hunt covered in our camo. However, it is pretty cool to see someone take Mossy Oak Graphics and apply it to something we've never thought of before. Talk about taking camo to an out-of-the box place–this is one for the books! This deer skull head demonstrates the countless creative possibilities with Mossy Oak Graphics. So the next time you get a deer, don't forget to add a little camo, too!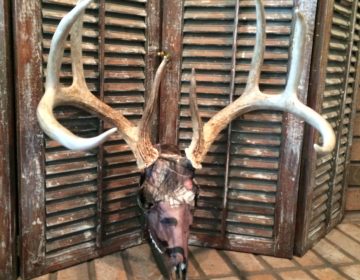 Don't limit yourself–your only limitation is your imagination. It puts a smile on our face when we see customers taking advantage of all that Mossy Oak Graphics has to offer, which is why we decided to put them into the spotlight.
If you've wrapped any other interesting objects in Mossy Oak Graphics, please submit your own personal photos to our Facebook page — We look forward to featuring you in the next "out of the box" blog edition.
Feeling inspired? Get started by grabbing your rolls of camo here!