What to do with your MOG "Leftovers"
If your biggest problem is not knowing what to do with extra Mossy Oak Graphics camo vinyl, then we'd say you've got it pretty good.
As we've stated before, Mossy Oak Graphics lives by a native american, no waste hunter mentality. We are fully confident that every piece of your purchased camo vinyl can be used (and yes, that is a challenge). The least we can do is use every little piece of camo vinyl to reduce waste and help the environment because the earth is too precious not to do so. Are you unsure as to what you should be doing with extra Mossy Oak Graphics material? Here are some fresh ideas for you to fully utilize your MOG scraps.
1. Golf Club Head
We all know that golfing isn't anything like hunting, unfortunately. However, that doesn't mean you shouldn't take everything about hunting out of the game of golf, meaning you can incorporate the safe parts of hunting; one being your favorite camo prints. Adding a little camo vinyl to your favorite golf club head is such a creative way to incorporate your two favorite things–even though we know that you love hunting more (don't worry, we won't tell your golfing buddies).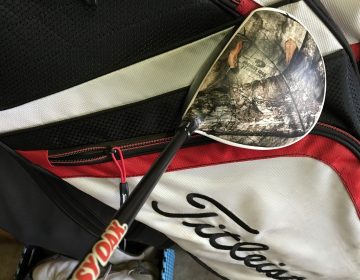 2. Coozi
This Mossy Oak Graphics customer is seriously living the life! Laying back, relaxed, cowboy boots up, and a cold drink in-hand without a care in the world. If you, too, have any boring, basic looking coozis that need a little pick-me-up–wrap it with your extra Mossy Oak Graphics camo vinyl (just make sure it's a coozi with rigid material and not the soft foam type before applying).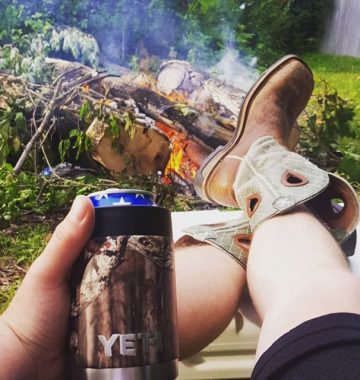 3. Man Cave
We may be biased, but we think a man cave wrapped in Mossy Oak Graphics would just about be the coolest thing to ever happen–so if you have a camo-inspired man cave, please send it our way! What hunter wouldn't want a camo-wrapped sanctuary waiting for them after a long weekend of hunting? Not only can you wrap your man cave in our camo wallpaper, but if you have any extra leftovers, don't stop there. Add your extra camo vinyl to your lampshades, doors, clocks, ceiling fan blades, wall outlets, and switch plate covers.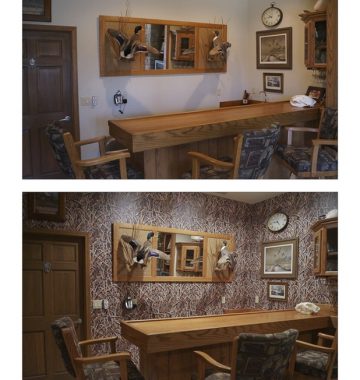 4. Personalized Decal
With our versatile camo vinyl, you have the ability to think out of the box, and you're not confined to our decals (we're not discouraging you, however, because our decals rock). You can trim out any shape, size, or design that you desire and apply it to any flat surface. Cole and Lexie definitely have the right idea!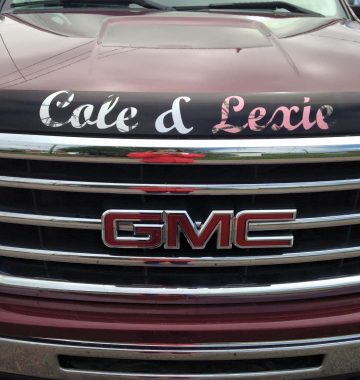 5. Steering Wheel
Any reminder that hunting season is right around the corner is the best … Which only makes the most sense to apply Mossy Oak Graphics to anything you can! Especially if you're someone who does a lot of driving, adding a little Mossy Oak Graphics to your steering wheel will get you through the day, especially in traffic during that terrible rush hour.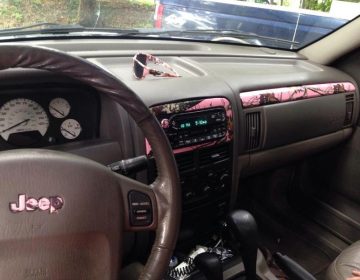 6. Book Cover
Kids dread the "back-to-school" ads that start the weeks leading up to the new school year. For most parents, however, these ads have been a long time coming (phew, they're finally out of the house!) For the families that have to leave the country to go to school in the city, we know you will do anything to add some country flair to the classroom. If you have any extra Mossy Oak Graphics camo vinyl, stand out at school with a camo book cover. Not to mention, your laptop wouldn't look so bad wrapped in some Mossy Oak Graphics, either.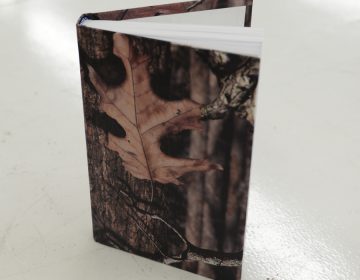 If you've done anything interesting with extra Mossy Oak Graphics vinyl, we would love to see it! We encourage to post any photos to our facebook page. Happy applying, hunters.