In this fight, wrapping is the reigning champion.
Wondering how hydro dip vs wrap compare to each other in the camo game? Luckily for our customers, they don't have to be a Claude Monet or Leonardo Da Vinci to add camo to any surface (even if that wasn't their medium, which is besides the point). There are many perks to camo vinyl wrapping rather than camo hydro dipping kits, which is why we wanted to make it clear and simple to customers: Camo vinyl wrapping is the way to go. Here are some of the many reasons why you should ditch the camo hydro dip film kit and choose to wrap.
1. Easier on the wallet
How does it get any better? Well, it does. Even though we feel that it's not necessary to persuade you any further than the fact that vinyl wrapping is the cheaper decision than camo hydro dipping, we are going to engrain this in you. While our cast vinyl is the highest quality in the market, it is still starkly cheaper than camo hydro dipping guns. Specifically regarding gun skins, wrapping your firearm is much cheaper than hydro dipping. Mossy Oak Graphic's gun skin price is $29.95, while the average hydrodip price is around $200. This decision is definitely a no-brainer. If you choose to wrap with Mossy Oak Graphics, your wallet will thank you later.
2. User friendly
You don't need to be an Albert Einstein to use Mossy Oak Graphics, either. We've made our materials so easy to use that you can do it yourself. We feel as though everyone is a part of our team. Because we know our products are so user friendly we have provided users do-it-yourself videos so you can DIY that camo vinyl wrap instead of hydro dip it. If we can do it, anyone can. Don't feel starstruck just because our materials are top of the line, we've designed our quality camo vinyl with you in mind. Skip the camo hydro dip kit and grab a camo vinyl wrap.

Even though we guarantee you will be fully satisfied with the final product, if you don't like it – change it. It is very easy to remove at any step, whereas it's not as easy to remove paint. Actually, not easy at all. Not to mention, when removed, Mossy Oak Graphics won't leave behind any adhesive residues or unwanted marks. So feel free to change up your wrap patterns with every hunting season, or alter it depending on which environment you wish to hunt in. Our materials can be removed with ease, I'm not sure we could say the same about paint jobs.
3. Preferred by insurance companies
Ahh … insurance companies. These guys can be the tough cookies. If you want to get on their good side, you should definitely choose wrapping over camo water dipping. Apparently they're hopping on the bandwagon that wrapping is cheaper, too. Which is good for us – we want you to like camo vinyl wrapping as much as we do! So take advantage of our products. Sorry dip kits, but there's no doubt we win this category!
4. Protective qualities
Do you live on a dirt or gravel road? Are you tired of those suckers leaving a mark on your truck? Well, Mossy Oak Graphics can help with that. Mossy Oak Graphics wraps can help protect your bumper and rocker panels from wear and tear, whereas paint from a hydro dip kit is easily chippable. And it isn't all about that beautiful matte finish. Our laminate cover adds to the protection of the wrap to ensure everything is nicely sealed together to further prevent any possible damages. Not to mention, our materials can withstand extreme temperatures ranging from -65 to +265F. Insurance companies have nothing on Mossy Oak Graphic's wraps. Take that, spray paint and water dip!
5. Environmentally friendly
Mossy Oak Graphics desires to live by Native American's "no waste" mentality. Having said that, we are confident that every piece of material can be used. When wrapping with Mossy Oak Graphics vinyl, customers have the opportunity to take advantage of extra material and do what they desire with it. Whether this means adding extra camo patterns to your gun, truck emblem, or using Mossy Oak Graphics for arts and crafts or gifting, our camo vinyl wraps are extremely versatile.
6. Wrap anything, wrap everything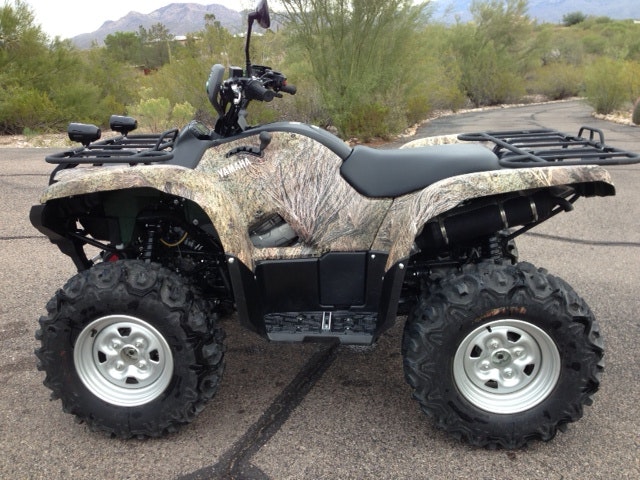 Mossy Oak Graphics Brush ATV Camo Vinyl Wrap
Whether you're looking for a do it yourself camo dip kit for your atv, scope, gun, AR 15, or something else, look no further. We have camo vinyl applications for just about everything you can think of, and if you can't find it on our site you can pick up some Camo Vinyl Rolls to make work for your application. Available in every Mossy Oak pattern, including pink camo and blue camo, you will find the pattern you need.
In a fight of wrapping vs. painting or hydro dipping, it's clear: camo vinyl wrapping will always come out the winner.