Ever wonder which camo vinyl to buy?
With all of the options out there it's hard to know the true differences and why they matter without doing your research. You're in luck, because we have done the research for you. After reading these 10 reasons you will know that Mossy Oak Graphics is of the highest quality, unique to the outdoor industry, and the only camo vinyl you will ever buy again.
Why Buy Mossy Oak Graphics Camo Vinyl?
Mossy Oak Graphics are the first and only in the industry to offer 3M Premium Cast Vinyl in Mossy Oak patterns to the sportsman. To give you a little background, cast vinyl starts out as a liquid and is baked into sheets. This process allows it to be heated and stretched to conform to curved surfaces. It also prevents the material from cracking, peeling or shrinking back to its original form. In the end, it offers a highly durable, conformable material perfect for curved and flat surfaces alike. Here are just a few more of our materials benefits:
7-year durability rating
5-year no fade warranty
3M™ MCS™ warranty, the most comprehensive finished graphics warranty in the industry
Water resistant for marine applications
Easy to clean
Easily removable without damaging the surface
2. Versatility
Mossy Oak Graphics camo vinyl allows you the freedom to wrap anything and everything in your favorite camouflage patterns. We provide products that can be used indoors, outdoors and both. Whether you want to camouflage your kitchen, laptop, trail cam, guns, bow, or vehicle, our easy-to-use vinyl material makes it possible.
Our material can be used on such a variety of surfaces that you can use every last bit – take a look at our suggestions on what you can do if you find yourself with some extra camo vinyl.
Not only is our vinyl versatile in what it can be applied to, but also in the patterns we offer. Because of its easy application and our broad pattern selection, you can change the pattern you use based on the hunting season. It can even be applied over existing graphics without damaging them.
3. Durability
Sun. Rain. Snow. Whatever the weather, our product will stand up to it because of our superior material. Installed correctly, our finished graphics can resist between -65 to 265 degree Fahrenheit temperatures.
Live on a gravel or dirt road? Is your ATV or UTV getting hit by sticks and branches? Mossy Oak Graphics can protect your surface from damage caused by these type of debris.
Our products can also be used to cover any visible damage you may already have and prevent it from getting worse.
4. Restoration
Our product has proven to be a great source for restoration. Whether you are looking to cover up that dent on your bumper or you just want something new, our camo vinyl is the solution. If you have any scratches or dents and are looking to resell, our camo vinyl has a way of making the old look new.
Repairs and new paint jobs can be extremely expensive. Our product is a less expensive alternative and worth every bit of its cost. Backed with a 7-year durability rating and 5-Year fade warranty, our camo vinyl is made to last and keep your vehicle looking better than ever for years to come.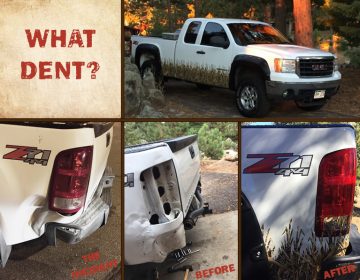 5. Exclusive Patterns
In addition to industry leading materials, we have also partnered with some of the leading photographers and wildlife artists in the world. Their iconic images are available on a variety of products exclusively from Mossy Oak Graphics, including Rear Window Graphics, Tailgate Graphics, and Wall Graphics.
We offer up to 40 different Mossy Oak camo patterns, all exclusive to Mossy Oak Graphics. Mossy Oak has won Bowhunting World's Readers' Choice Award for 11 years in the camo category. Our ultra-realistic patterns are designed for a variety of hunting environments. Learn more about what Mossy Oak Graphic patterns fit what environment in The Search for the Right Pattern.
In 2016 we added a line of Lifestyle patterns that included Lifestyle Black, Lifestyle Blue, and Lifestyle Pink. In 2021, we added all the Elements Coastal Fishing patterns along with Elements Agua Crimson.
6. Application Surfaces
Are you wondering what can you apply Mossy Oak Graphics to? The following is a list of substrates our camo vinyl graphics can be applied to:
ABS resins
Aluminum
Chrome
Fiberglass
Fiberglass with gel coat
Galvanized Metal
Glass
Most paints
Reinforced plastics
For textured surfaces, be sure to use a primer stick, primer can, or edge sealer.
7. Chemical Resistance
Mossy Oak Graphics can withstand the following chemicals:
Mild alkalis
Mild acid
Salt
Occasional fuel spills
These chemicals may be damaging to other materials, but Mossy Oak Graphics 3M material will resist their effects.
8. Adhesive
Mossy Oak Graphics products are unlike any other adhesive vinyl. They are pressure activated, movable, and repositionable. Unlike the old decals where you have one shot to apply it in the correct spot, you are able to stick it to your surface and pick it back up to move it. In fact, you can stick it down and pull it back up as many times as you like to get it in the exact position you want.
After you have positioned it, all you have to do is apply heat and firm pressure over the graphics. This step ensures proper adhesion of your camo graphic. To help strengthen the adhesive bond, keep the product above 60 degrees for at least 12 hours before exposing it to either cold or wet climates.
Once you've got it on, there's no worries. You can go to the car wash, use the high-pressure washer, and just treat it like you would a regular vehicle. There're no worries with any water, rock chips, or any kind of dirt getting underneath it. It is there to stay, protect your vehicle, and look great for years to come.
Want to take off your camo vinyl? No worries. It leaves no glue or residue behind. To remove, use a heat gun or hair dryer to warm it up. This softens the adhesive enough to easily pull it off. Start in a corner and pull the vinyl back against itself and it'll come right off. Your vehicle, boat, car, or gun will look like the day you applied it underneath.
See how a customer removed their Mossy Oak Graphics gun wrap after 9 years.
9. Military Grade Matte
Our material is a premium 3M Cast vinyl with a military grade matte laminate. This means that our graphics have zero shine or sheen. When you're hunting, you don't want the chance of your camo having shine. With our military grade matte, our camo is guaranteed to keep you hidden.
10. Installation Support
Mossy Oak Graphics not only provides quality products but also quality assistance and support. We provide videos with step-by-step installation instructions for our various products. If you need further assistance, we also provide our customers with phone support Monday – Friday, 9am-5pm EST at (888) 449-6558. Whatever it takes for you to have a smooth installation experience, we are here to help.
We hope these reasons are enough to show you why Mossy Oak Graphics is the best camouflage vinyl in the market.