Need help finding the perfect Christmas gifts for teens? Knowing what to buy your teenager, especially someone like a teenage country boy, for Christmas is hard. Teens can go through phases faster than we can blink. Mossy Oak Graphics has a list of gifts that are sure to fill them with joy on Christmas day. After all, camo isn't a phase - it's a lifestyle.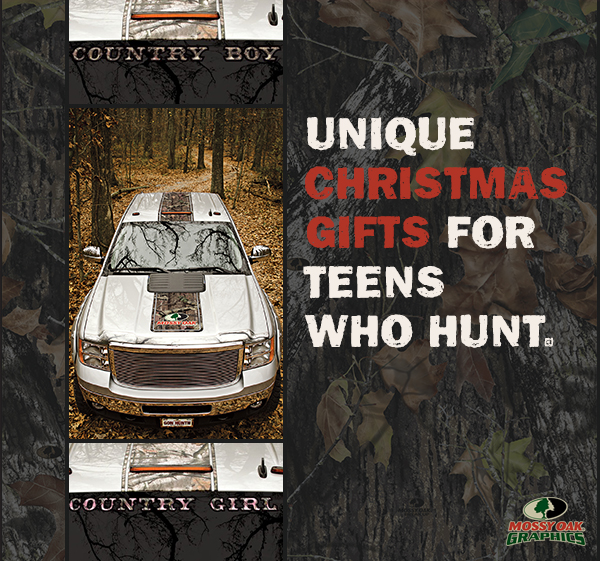 This is a great country boy Christmas gift. He is sure to love this Country Boy windshield decal for his vehicle.
Looking for a Christmas gift ideas for teen girls who love camo? Mossy Oak Country Girl windshield decal is pretty in Mossy Oak Break-Up Pink camo for her truck, car, or SUV.
Mossy Oak auto interior dash kit is the ideal Christmas gift to accent the inside of your teens first car. Available in 40 different Mossy Oak camo patterns, you can't go wrong with this Christmas gift idea for teens.
What teenager doesn't love to express themselves in their room? Mossy Oak Graphics wallpaper is a great gift that will allow your camo loving teen to do just that. Let them cover one wall or all four in their favorite Mossy Oak camo pattern!
Here's a great gift idea for Teens who play baggo or Cornhole - buy them a wrap to cover their board in their favorite Mossy Oak pattern, the American Flag, or the Texas Flag!

The Mossy Oak Camo Rally Stripe package is another great way for teens to express themselves on their car. They'll have the coolest truck in the school parking lot.

Help your teen hunt in style and feed their camo obsession this Christmas with a Mossy Oak Graphics shotgun, rifle, or scope wrap. Hunting is a family affair!
Mossy Oak camo tape is a great Christmas gift for teens. It gives them the freedom to apply it to anything they want to cover in camo – what teen doesn't love their freedom.

If your teen has a dorm room or college apartment, get them a hunting themed doormat as a fun reminder of your family's favorite pasttime.
Teens who hunt are the best kind, and super easy to shop for when you are shopping at Mossy Oak Graphics. For more cool Christmas gift ideas for teens, browse our entire site. We're sure you'll be successful in your hunt for the ideal gifts for your teens!